The Experts in Tool Life Management
Engineered Tools for Life®: As a manufacturer using cutting tools to machine precision parts, maximizing tool life is critical to your success. Today's manufacturing community expects its suppliers to add value and provide expertise in tool life management. From the time a new tool begins to make chips through qualified re-grinding to disposal through recycling, Tru-Edge has you covered.
Because tool life is vital to you, it is a priority to us. At Tru-Edge, with investments in our engineering staff, manufacturing equipment, continual improvement processes, and state-of-the-art PVD coating vessels, coupled with unique logistics services, you can expect us to meet the challenge to be your #1 source for a comprehensive, economical, tool life management program.
Procedures to effectively manage cutting tool programs can be costly: sorting tools, identifying a quality re-grind company, sending tools out, receiving them back, inspecting the tools, and re-stocking them all contribute to your workload. Programs and processes developed by Tru-Edge over the past 20 years minimize these headaches and reduce your costs.
Tru-Edge's TE-K Program (Kanban and Stocking Agreement), is geared to the medium-to-large metal removal manufacturer. All TE-K Programs are qualified through our sales and engineering teams, and CTQ-tracked to assure we identify and continually meet your standards. For the smaller shop, it can be as simple as putting your worn tools in a Tru-Edge-provided transport box and shipping them to us. That's it.
Once received, we sort the tools and quote those that can be re-ground. We provide a quote, you give us a PO, and we will take it from there. We then return your re-ground tools in proper packaging with the paperwork included. Value- added services can include measuring tool sizes and laser-marking the shanks, adding labels to the package with your customized item number, and providing inspection reports for receive-and-stock options, along with other complementary services that may be specific to your company.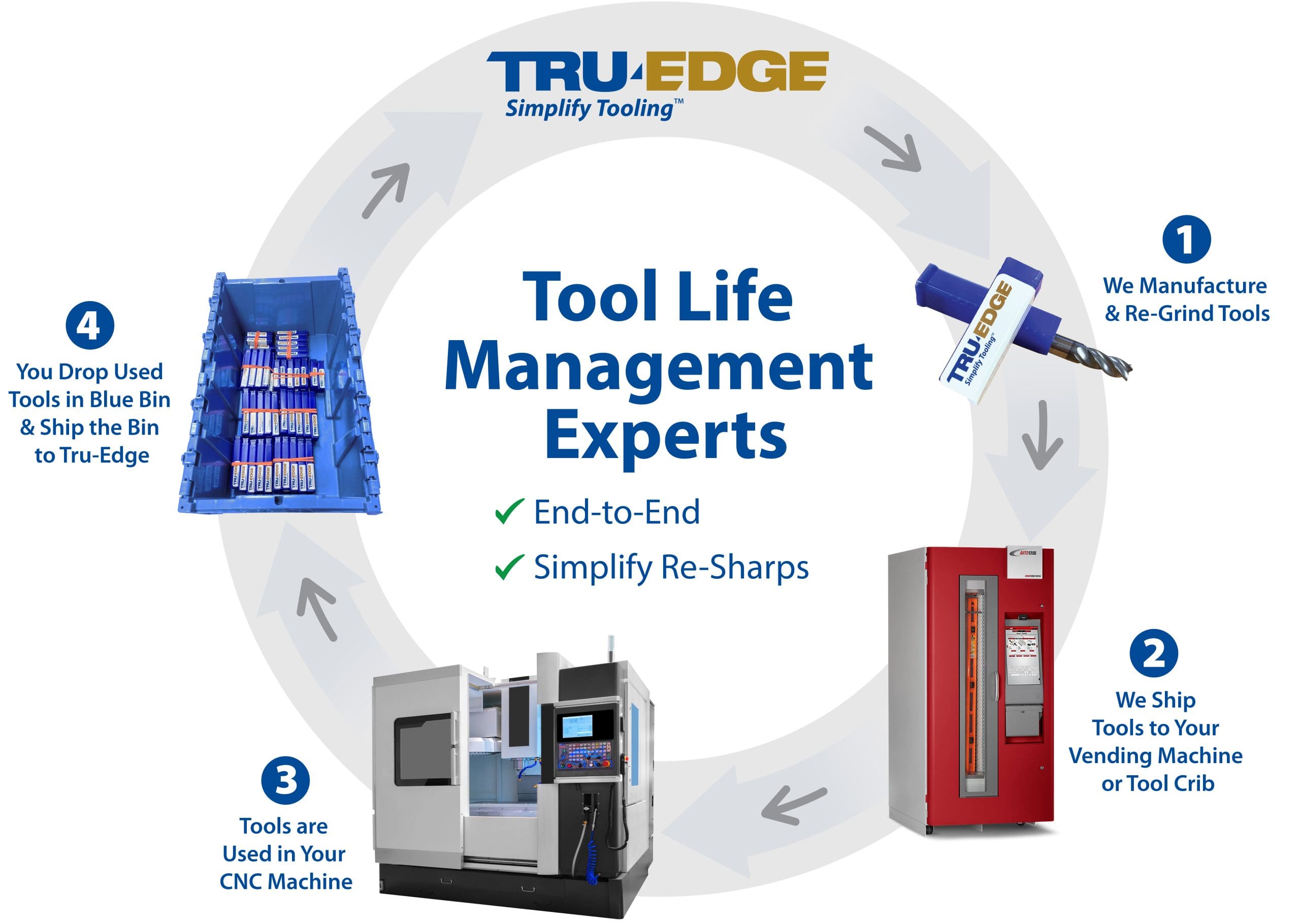 Since 1996, from our West Central Ohio facilities near Dayton, we have been serving customers in the aerospace, automotive, food service, medical, mining, tool & die, mold, and woodworking industries.
Since Day One, our goal has been to reduce the total cost of ownership (TCO) of the tools you use. That includes maximizing the number of re-sharps through precision re-grinding techniques. In the case of Tru-Edge-designed special tools, we pay particular attention to how a tool is used in production and develop a solution that allows for the greatest number of re-grinds.