At TE MetalCut Repairs, we restore indexable cutting tools to like-new condition, including:
We often repair indexable tools that our competitors won't touch because it's "Damaged Beyond Repair." At TE MetalCut Repairs, we can rebuild your damaged indexable tools far below the cost to purchase new tools.
When we receive your tooling, we inspect, qualify and prepare a quote within 24 hours.
Following your authorization to repair your tooling, we schedule it into production, where we provide the industry's best standard turnaround time.
Our repair process maintains pocket hardness throughout the welding and machining operations, which result in tooling that's like-new, compliant, and porous free.
We then qualify the repaired pockets to ensure insert fit against the walls and floor. In the case of milling tools, we check for runout on diameter and face, and use a Parlec Origin pre-setter to ensure the accuracy of our work.
If you request an inspection report with your repaired tool, we can provide one.
FAQs
An educated customer is a loyal customer. That's why we've compiled these FAQs to help you get a better understanding of how TE MetalCut Repairs can add value to your operations.
When you receive your repaired tool, we can also provide you with a Cost Reduction Report upon request that documents the savings you'll realize when using our quality tool repair services.
These reports can be customized to offer end users, integrators and distributors a fast, simple way to capture and illustrate cost savings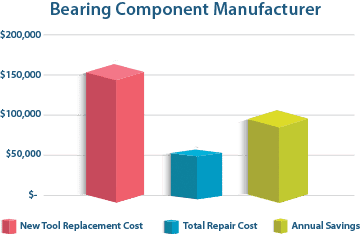 Product Catalogs
To help you minimize your tooling costs, check out our catalogs of refurbished indexable tools, including Carbide Inserts and Boring Bars.